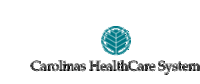 Mostly increased monitoring provokes privacy concerns. But what if it's objects that are being monitored?
Carolinas HealthCare System (CHS), the third-largest public healthcare system in the US, has completed the first phase of an asset tracking program that is believed to be one of the largest healthcare real-time location system (RTLS) deployments in the US. Currently about 5,000 assets are being tracked over 1.4 million square feet at five facilities.

CHS plans to extend the WiFi-based RTLS system throughout its network, which includes 15 hospitals and medical centers in the Carolinas. Additional facilities totaling about 3 million square feet are scheduled to go live by the end of the quarter.

"As a healthcare organization, we're required to upgrade or perform preventive maintenance regularly on medical equipment," Clay Fisher, director of information service at Carolinas HealthSystem, told RFID Update. "Imagine trying to find one specific IV pump when you have thousands of them across multiple facilities. We have reduced our 'time-to-find' for individual pieces of equipment from hours to less than ten minutes."

— Carolinas HealthCare Launches Huge RTLS System, RFID Update, Tuesday October 9th, 2007
One odd side effect is that CHS says if your wireless network isn't configured for VoIP, you should add that, because then it will have enough coverage to do RTLS.
Now if they can find a way to track patient orders between nursing shifts, and which doctors sign off on drugs without seeing their patients....
-jsq