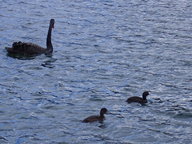 A recent post about Bob Metcalfe's FOCACA proposal led to some comment discussion. What does it take to produce innovation, in renewable energy, or the Internet (or more likely in both interacting)?
Let's ask John Robb, the military stategist:
Here's how. Warfare in our current complex environment (as opposed to the last century and earlier) is very similar to the areas of science/finance where stochastic processes dominate. Since stochastic dominance implies a high level of randomness in outcomes, tinkering networks (ie. open source insurgencies) tend to generate substantially higher returns on effort than highly planned activities (ie. nation-building).

Stochastic tinkerers and warfare, John Robb, Global Guerillas, Monday, 01 January 2007
Hm, that's almost like the bazaar instead of the cathedral.
Continue reading "Black Swans, the Internet, and Renewable Energy" »