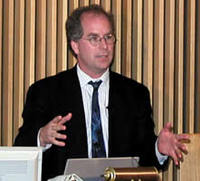 The Internet Archive has for a decade been a cornerstone of the Internet, and the FBI was foolish to try to break it:
The FBI has withdrawn an illegal National Security Letter seeking information from an online library and has lifted a gag order that until Wednesday prevented any discussion of the information request.

Lawyers from the American Civil Liberties Union and Electronic Frontier Foundation helped the Internet Archive push back against what they say was an overly broad and unlawful request for information on one of its users. The FBI issued its National Security Letter in November, but ACLU, EFF and Archive officials were precluded from discussing it with anyone because of a gag order they say was unconstitutional.

After nearly five months of haggling, the FBI eventually withdrew its NSL, which requested personal information about at least one user of the Internet Archive. Founded in 1996, the archive is recognized as a library by the state of California, and its collections include billions of Web records, documents, music and movies.

— Watchdogs prompt FBI to withdraw 'unconstitutional' National Security Letter, Nick Juliano, therawstory, Published: Wednesday May 7, 2008
The article goes on to say that the FBI has issued 200,000 National Security Letters, that almost none of those NSL have been challenged, yet every single time someone has challenged an NSL in court, the FBI has withdrawn it.
How do these NSL represent "Security"?
In any case, National Security Letters were authorized by the mis-named Patriot Act. Brewster Kahle has shown us how a real patriot acts:
Continue reading " NSL: Internet Archive Exposes Lack of Security in National Security Letters " »