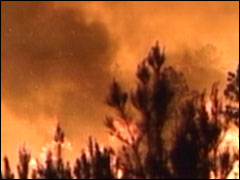 I'm having a little difficulty finding historical statistics on wildfires. Here's someone's understanding:
My understanding is that the size of this fire is almost unprecedented with the exception being a fire in 1955 that consumed 58,000 acres.

The wind changed today. I can smell the smoke of my neighbor's land again. The ash is falling again, too. Bitter snows.

— The Waycross Wildfire 2, jimmorrow, April 23, 2007
When he wrote that towards the end of April, 55,000 acres had been burnt near Waycross, Georgia.