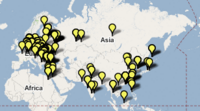 Australian HoneyNet tracks Fast Flux nodes and maps them:
Below is the current locations of the storm Fast Flux hosts. This is updated every 15 minutes from our database.

I Had to change it to only show the last 6 hours of new nodes since GoogleMaps doesn't scale very well when your reaching past a few thousand markers on a map :)

—Fast Flux Tracking, Australian HoneyNet Project, accessed 7 Aug 2008
Fast Flux, in case you're not familiar with it, refers to various techniques used by bot herders, spammers, phishers, and the like
to evade blocking by rapidly changing which IP addresses are mapped to which domain names
.
-jsq