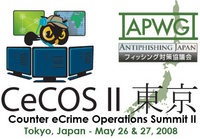 26-27 May 2008 in Tokyo:
The second annual Counter-eCrime Operations Summit (CeCOS II) will engage questions of operational challenges and the development of common resources for the first responders and forensic professionals who protect consumers and enterprises from the ecrime threat every day. This year's meeting will focus on the development of response paradigms and resources for counter-ecrime managers and forensic professionals. Presenters will proffer case studies of national and regional economies under attack, narratives of successful trans-national forensic cooperation as well as models for cooperation and unified response against ecrime and data resources for forensic activities.

— Counter-eCrime Operations Summit II, APWG Japan, 2008
The Anti-Phishing Working Group continues to expand via national associates, and to put on good workshops.
-jsq