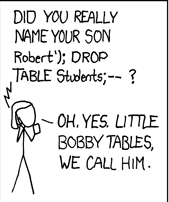 You'd think they'd know better:
One of the cardinal rules of computer programming is to never trust your input. This holds especially true when your input comes from users, and even more so when it comes from the anonymous, general public. Apparently, the developers at Oklahoma's Department of Corrections slept through that day in computer science class, and even managed to skip all of Common Sense 101. You see, not only did they trust anonymous user input on their public-facing website, but they blindly executed it and displayed whatever came back.

The result of this negligently bad coding has some rather serious consequences: the names, addresses, and social security numbers of tens of thousands of Oklahoma residents were made available to the general public for a period of at least three years.

— Oklahoma Leaks Tens of Thousands of Social Security Numbers, Other Sensitive Data, by Alex Papadimoulis in Feature Articles, The Daily WTF, 2008-04-15
But the best part is what it took to get the state to fix it:
But the best part is what it took to get the state to fix it:
I emailed George again, this time explaining the problem much more clearly and advising in BOLD, RED, CAPS that the "roster page" should be taken down immediately. I also demonstrated the power of the ALL_TABLES table, the contents of an "interesting" table named MSD_MONTHLY_MEDICAL_ACTIVITY, and how even their information was available for all to see:
And suddenly the offending page disappeared. Apparently it's not enough to explain to some people that they're leaking personal information about everybody in the state. You have to explain they're leaking information about
themselves
. And it's good risk management to have such people in charge of information about the public?
-jsq