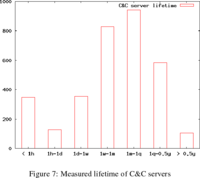 The subject is my interpretation of a sixteen page paper by a joint Chinese-German project to examine botnets in China.
Botnets have become the first-choice attack platform for network-based attacks during the last few years. These networks pose a severe threat to normal operations of the public Internet and affect many Internet users. With the help of a distributed and fully-automated botnet measurement system, we were able to discover and track 3,290 botnets during a period of almost twelve months.

— Characterizing the IRC-based Botnet Phenomenon, Jianwei Zhuge1 , Thorsten Holz2 , Xinhui Han1 , Jinpeng Guo1 , and Wei Zou1 Peking University Institute of Computer Science and Technology Beijing, China, University of Mannheim Laboratory for Dependable Distributed Systems Mannheim, Germany, Reihe Informatik. TR-2007-010
The paper provides many interesting statistics, such as only a small percent of botnets are detected by the usual Internet security companies. But the main point is exactly that a distributed and adaptive honeypot botnet detection network was able to detect and observe botnets in action and to get data for all those statistics. Trying to deal with an international adaptive botnet threat via static software or occasional centralized patches isn't going to work.
Some readers conclude that this paper shows that reputation services don't work,because they don't show most botnets. I conclude that current reputation services don't work because they aren't using an adaptive distributed honeypot network to get their information, and because their published reputation information isn't tied to economic incentives for the affected ISPs and software vendors, such as higher insurance rates.
-jsq