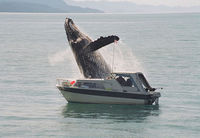 The U.K. Revenue ministry has been leaking massive amounts of personal information, and now it's affected the ruling party:
The Government will face fresh questions over the loss of millions of voters' personal data amid evidence the debacle has helped fuel a massive slump in public confidence.

One poll showed those backing Labour's ability to handle economic problems had been more than halved to 28%, with just a quarter deeming Gordon Brown's administration "competent and capable".

And another gave the Tories a nine-point overall lead, its strongest position for 15 years, just weeks after Labour enjoyed an 11-point advantage in the same poll.

— Confidence in Labour 'plummets', Press Association, Guardian Unlimited, Friday November 23, 2007 7:03 AM
A government in risk of falling due to lack of breach security and perceived lack of technical confidence might be what it takes to get governments and industry to take breach security seriously. For example by requiring breach reporting.
-jsq