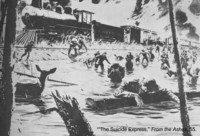 They didn't see it coming, because they were looking the other way:
Speaking of wildfires, my book of the day is Under a Flaming Sky: The Great Hinckley Firestorm of 1894. It is the sharply written story of a how a Minnesota town of 1,200 was devastated by a catastrophic firestorm that came raging out of the nearby woods with tornado-class winds and a 300-foot wall of fire, killing 436 people.

— Book du Jour: Under a Flaming Sky, Paul Kedrosky, Infectuous Greed, October 3, 2007
Wikipedia says it burned 200,000 acres and some sources say 800 people died. Some people who lived jumped into wells or ponds or the river, or caught one of two trains that made it out of town.
So what was it that burned?
White pine, opened a generation before (1870) to logging.
Rapid harvesting of the Minnesota pine forests began, leaving stumps, fallen branches, and other unusable parts in the forest after the bulk of the trees were taken to a sawmill. The dead wood, as well as the living white pines, were dried out during the hot summer and drought of 1894 when only two inches of rain fell between May and September and daytime temperatures were consistently into the 90s (Millet, Larry. "The Day the Air Caught Fire." Saint Paul Pioneer Press August 28, 1994: A1+.). All summer, cinders from passing steam locomotives ignited small forest fires in Minnesota, Wisconsin, and Michigan that caused smoke to linger over Hinckleyand disrupted navigation on the Great Lakes (Swenson, Grace. From the Ashes. Stillwater, MN.: Croixside Press, 1979. 3). Residents of Hinckley were concerned about the safety of their town—it was built entirely of wood, was surrounded by white pine forests, and contained a lumber mill—but were used to the presence of small forest fires. Reassuring the public, the Enterprise wrote on June 25, 1894 that the Brennan Lumberyard had a "most thorough system of waterworks in their plant.… Water mains and hydrants, with hoses constantly attached, are placed in all parts of the yards. Under ordinary circumstances it would be impossible for fire to gain any control or headway anywhere in the yards…. The fire king would most surely meet defeat from the Brennan Lumber Company" (Swenson, 9).

— The Great Fire of 1894, Hinckley Online Tour, accessed 9 Oct 2007
Until Saturday, 1 September 1894.
It seems this wasn't so much a black swan as a grey swan; one which could have been predicted or at least suspected if the people watching hadn't been too busy denying it could happen.
Once it did happen, the memory was scorched into the common wisdom: don't let a pine forest burn! I bet it would be possible to trace the effects of this white pine logging debris fire to the attempts to suppress fire entirely in the very different longleaf pine forests of the southeast. From denial to suppression. What fools these mortals be!
-jsq
PS: Thanks to Ben Hyde for pointing out this wildfire.