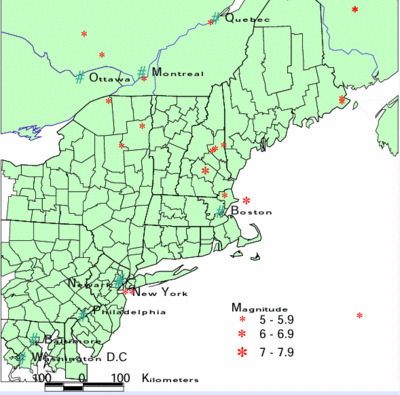 In addition to the possibility of hurricanes (the Long Island Express also went through Massachusetts) and tornadoes, does Massachusetts also need to worry about earthquakes interrupting baseball games?
For the second time this month an earthquake has hit Massachusetts.

NewsCenter 5 received numerous calls from people in the Groton, Westford and Littleton area. Residents said that they heard what sounded like a loud boom or explosion. Some said that they felt their homes shake.

The U.S. Geological Survey confirmed that an earthquake measuring 2.5 hit the region at about 1:30 a.m. Residents in Westford and Littleton also said that they heard rumblings at about 6:05 a.m.

— Earthquake Shakes Bay State, Residents In Route 2 Area Report Loud Boom, TheBostonChannel.com, 19 Oct 2007
Like hurricanes and tornadoes, it has happened before:
....a quake that shook Newburyport on Oct. 29, 1727. That was a 5.5 magnitude earthquake that was felt from Maine to Philadelphia.

— Bay State Residents Jolted By Ancient Earthquake, Quake Measured 1.8 On Richter Scale, TheBostonChannel.com, 10 Oct 2007
Are earthquakes as likely as tornadoes or hurricanes to cause damage in Massachusetts?
I would guess not, if 5.5 is the largest previously recorded. But it's another example of a thing probably nobody expected, because nobody looked until it happened again.
It turns out that while big quakes are not common in the U.S. northeast and Canadian east, they're not uncommon, either:
Many of the small earthquakes in our region may be very late aftershocks of strong earthquakes that took place hundreds or thousands of years ago.

— Thoughts Concerning Earthquake Sources in the Northeastern U.S., by John E. Ebel, Presented to the USGS CEUS Workshop, May 9, 2006
There was a magnitude 6.2 quake off Cape Ann in 1755 and a 7.5 quake in Charlesvoix, Quebec in 1663 that cracked chimneys in Boston, about 350 miles away. That's getting into the range of the New Madrid earthquake of 1812, which was the largest earthquake event ever recorded in the contiguous U.S.; it rang church bells in Boston, about a thousand miles away. More recently, the 1999 Newburyport quake was a 3.0.
Significant damage is possible:
Sand dikes and sills in glaciomarine sediments record two liquefaction events in Newbury, Massachusetts, the meizoseismal area of the A.D. 1727, felt-area magnitude 5.0, earthquake. During the 1727 earthquake, Newbury experienced ground shaking on the order of modified Mercalli intensity VII and underwent ground failure typical of liquefaction. According to accounts of the earthquake, ground cracks with separations of up to 0.6 m formed; sand and water vented through at least ten ground cracks; land was locally elevated; and firm ground was changed to quagmire.

— Historic and prehistoric earthquake-induced liquefaction in Newbury, Massachusetts, Tuttle, Martitia; Seeber, Leonardo, Geology, vol. 19, Issue 6, p.594, June 1991
Hm, like the liquefaction that occured in the San Francisco Marina district during the Little Big One (the Loma Prieta Earthquake of 1989)? Which, incidentally, also occured during baseball season, in fact on 17 October 1989 during the World Series.
I wonder if rising water levels will affect seismicity?
-jsq