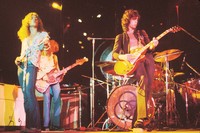 Now this is chutzpah:
Although our reporter was not the winning bidder, the seller contacted us and claimed the winner had failed to pay. She then quoted a price of £2,400 and said she would post the tickets to our reporter.

But we had already contacted the winning bidder via Ebay; he told us that he had already transferred £2,414 to the seller's bank account.

— Fraudsters hijack Led Zeppelin concert, Promotor blames Ebay for failing to take down auctions for non-existent tickets,Dinah Greek, Computeract!ve, 30 Oct 2007
Not only are these invalid tickets, but the seller was selling them twice!
-jsq