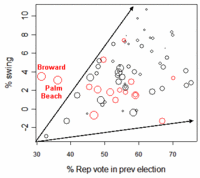 Well, it turns out we don't have to
wait for the technology to be ready.
Florida is ditching all of its touch-screen voting machines and moving to a proven technology:
Under the state's new election law, disabled voters can keep voting by touch screen — akin to using an A.T.M. — until 2012. But everyone else will use them only twice more, for the presidential primaries on Jan. 29 and municipal elections next spring. With optical scanning, voters use pens to mark paper ballots that are then read by scanning machines, leaving a paper record for recounts.

— Voting Machines Giving Florida New Headache, By Abby Goodnough, October 13, 2007
Meanwhile, how is the source of these machine helping?
Sequoia Voting Systems, which manufactured some of Florida's machines, offered to buy them back for a bleak $1 apiece.
Now here's a case where vendor liability would be very interesting.
-jsq