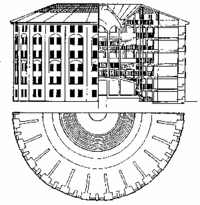 Fergie points out a university project investigating censorship:
The "Great Firewall of China," used by the government of the People's Republic of China to block users from reaching content it finds objectionable, is actually a "panopticon" that encourages self-censorship through the perception that users are being watched, rather than a true firewall, according to researchers at UC Davis and the University of New Mexico.

The researchers are developing an automated tool, called ConceptDoppler, to act as a weather report on changes in Internet censorship in China. ConceptDoppler uses mathematical techniques to cluster words by meaning and identify keywords that are likely to be blacklisted.

— University Researchers Analyze China's Internet Censorship System, News Report, Government Technology News, Sep 11, 2007
So the Great Firewall of China watches what users are doing by actively intercepting their traffic. Meanwhile, back in the U.S. of A., how about a passive web panopticon?
Terrorists and extremists have set up shop on the Internet, using it to recruit new members, spread propaganda and plan attacks across the world. The size and scope of these dark corners of the Web are vast and disturbing. But in a non-descript building in Tucson, a team of computational scientists are using the cutting-edge technology and novel new approaches to track their moves online, providing an invaluable tool in the global war on terror.

Funded by the National Science Foundation and other federal agencies, Hsinchun Chen and his Artificial Intelligence Lab at the University of Arizona have created the Dark Web project, which aims to systematically collect and analyze all terrorist-generated content on the Web.

— Scientists Use the "Dark Web" to Snag Extremists and Terrorists Online, Press Release 07-118, National Science Foundation, 10 Sep 2007
With this, one has to wonder why the U.S. government bothers with illegal wiretapping.
One also has to wonder which U.S. government agencies are funding or performing similar analysis on the rest of the web, and when we'll find out about that. At least if they're examining the public world wide web, it's probably not illegal. But what was that about 'a "panopticon" that encourages self-censorship through the perception that users are being watched'?
-jsq