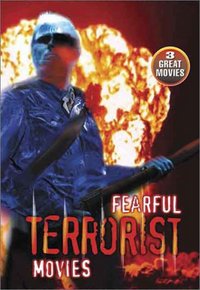 How to overdo outrage:
"How can you overreact when it's your children?" she said.
Like this:
...seven Iraqi men who were passengers on a plane scheduled to fly from San Diego to Chicago on Tuesday night. Robbins was also on the plane but was so terrified the men might be terrorists that she demanded to get off, causing a delay that prompted the airline to postpone the flight until the next morning.
When you interfere with other people's travel and basic rights on the basis of nothing more than fear and prejudice:
"He looked so mean, the way he was looking at everyone," Robbins said. "It was very frightening, like something out of a movie."
And no, "all I could think of was 9/11" is not an excuse. (I suppose it could have been worse. She could have said "like something out of '24'.")
And like this:
Citizens who have done no more than criticize the president are being banned from airline flights, harassed at airports, strip searched, roughed up and even imprisoned...

— BUSH RESTRICTING TRAVEL RIGHTS OF OVER 100,000 U.S. CITIZENS, by davidswanson, AfterDowningStreet.org, Mon, 2007-09-03 15:35
Wherever Osama bin Laden is, he must be chortling at how individuals and the U.S. government are doing more to harm Americans than he ever could have.
-jsq