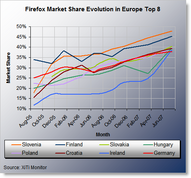 Here's some good news.
Firefox market share in Europe is almost 28%
according to
XitiMonitor
. In Germany it's 38%, and several other countries have higher usage. Opera is at 3.5% and Safara is at 1.7% in Europe.
I'd be more pleased if it was a quarter each by three different browsers, with half a dozen others taking the other quarter, but this is much better diversity than 98% IE.
-jsq