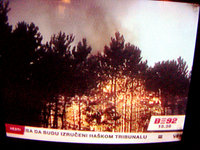 Why are there so many wildfires in the U.S. west? Cheatgrass grows where land has been disturbed by overgrazing:
So basically 20,000 public lands welfare ranchers have a death grip on science policies applied to western public lands.

— comment by kt, July 17th, 2007 at 8:13 am commmenting on Why cheatgrass wins, by Ralph Maughan, Ralph Maughan's Wildlife News, July 16th, 2007
Hey, it could be worse!
Today was the hottest day in Serbia ever since the temperature has been measured, 45 C [113 F].

If we we Serbs were truly interested in our survival as a nation, we'd be scrambling to get some modern hardware for dealing with ecological catastrophes. It's been ten years since Milosevic sold off our forest fire-fighting aircraft and pocketed the money.

— Serbia and the Flames, Jasmina Tešanović, BoingBoing, Tuesday, July 24, 2007
This is what you get when you sell off the public good and the equipment to protect it to private interests: your country burning down.
-jsq