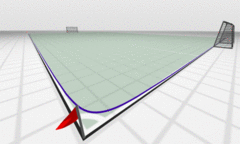 Why long tail graphs are usually shown on a log scale:
Unfortunately, the illustration works only as a large graph, because graphed out on small paper gives us only two discernable lines, one on each axis.

— A practical model for analyzing long tails, by Kalevi Kilkki First Monday, volume 12, number 5 (May 2007)
The sports field graph is a clever way of showing how the fat head of a long tail distribution can be extremely higher than the long tail; this is normally not so clear on log scale graphs.
Ben Hyde draws attention to the same kind of presentation applied to a different long tail distribution: income distribution in the U.S.. If the median U.S. family income of about $40,000 is represented by a stack of $100 bills about 4 centimeters high on the 50 yard line of a football field, The height of a curve doesn't rise visibly until it reaches the goalposts on the far end, at which point it suddently ascends higher than any nearby trees, mountains, or stratosphere. Nope, I'm not exaggerating; go look. Sometimes it takes a good visualization to bring out relevant comparisons.
This is the nature of many big, rare, risks, too. No hurricane damage for years on end, then suddenly devastation. You can't really manage a risk unless you understand it.
-jsq