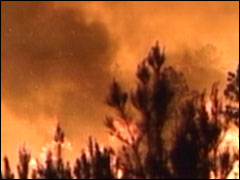 I'm having a little difficulty finding historical statistics on wildfires. Here's someone's understanding:
My understanding is that the size of this fire is almost unprecedented with the exception being a fire in 1955 that consumed 58,000 acres.

The wind changed today. I can smell the smoke of my neighbor's land again. The ash is falling again, too. Bitter snows.

— The Waycross Wildfire 2, jimmorrow, April 23, 2007
When he wrote that towards the end of April, 55,000 acres had been burnt near Waycross, Georgia.
Three weeks later, as of 12 May 2007, 101,290 acres had been burned in Georgia and the fire had spilled over into Florida and burned 78,650 acres in Florida, for 179,940 acres. Oops, make that 121,000 acres in Georgia in the earlier Waycross firee (Sweat Farm Road Fire), and 233,700 acres in the Okefenokee fire (Bugaboo Fires), as of Sunday morning, 13 May, For a total of 354,700 acres. That's not counting all the other fires in Georgia and Florida. (Not to mention all the other fires in Minnesota, California, and other places.)
Sure, the Okefenokee burns from time to time, because when it's wet the peat builds up and when it's dry enough it burns. But why are the fires so much bigger this time?
It's curious to me that none of the news reports or blog entries I've seen have speculated on any connection to the four-fold increase in the average number of wildfires in the western U.S. since 1970. Connection in that those increased western wildfires are apparently because the average spring and summer temperatures were more than 1.5 degrees higher in Western states between 1987 and 2003 than during the previous 17 years. Meanwhile, it's well known to everybody in Georgia that Georgia is in a drought. March is normally a rainy month, but last year and this year there was almost no rain in March, and not much since.
The U.S. Fish and Wildlife Service has some statistics online, from which it would appear that the Okefenokee last burned in 2002, to the tune of 117,816.2 acres. This year's fire, five years later, is twice as big. The FWS online stats only go back to 1995, and with only two Okefenokee fires to compare, it's hard to generalize. But what with all the other wildfires (50 started in Florida last weekend alone), you have to wonder.
It would seem like good risk management to me for somebody to be examining this question and to be considering what sort of measures and budgets will be needed to deal with this problem as the climate continues to warm. How much do timber industry monoculture pine plantations affect this issue, for example?
-jsq