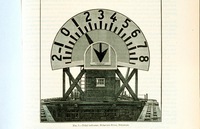 It's that time again:
Do you cringe at the subjectivity applied to security in every manner? If so, MetriCon 2.0 may be your antidote to change security from an artistic "matter of opinion" into an objective, quantifiable science. The time for adjectives and adverbs has gone; the time for hard facts and data has come.

— Second Workshop on Security Metrics (MetriCon 2.0) — Call for Papers, MetriCon 2.0 CFP, August 7, 2007 Boston, MA
Want to quantify a pesky subjective security topic? You've got until 11 May 2007 to submit a request to participate.
-jsq