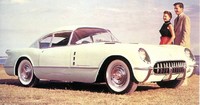 Bruce Schneier says the obvious:
Last week I attended the Infosecurity Europe conference in London. Like at the RSA Conference in February, the show floor was chockablock full of network, computer and information security companies. As I often do, I mused about what it means for the IT industry that there are thousands of dedicated security products on the market: some good, more lousy, many difficult even to describe. Why aren't IT products and services naturally secure, and what would it mean for the industry if they were?

— Do We Really Need a Security Industry? Bruce Schneier, Schneier on Security, 3 May 2007
Obvious in an emperor's new clothes sort of way.
Judging by the sputtering in the audience, he's hit a nerve:
Naturally secure. Naturally secure. Naturally secure. I can't seem to get it through my head. What the heck does "naturally secure" mean? Name any non-trivial asset or resource that is "naturally secure"? Now, up the ante with an intelligent adversary. Somebody, please - what is it that can be naturally secure against an intelligent adversary?

— What a bunch of bull, Pete Lindstrom, Spire Security Viewpoint, 3 May 2007
So who's right?
It seems to me that Bruce is only saying what a number of us have been saying for some time: until you can sue a vendor that sells you insecure software, nothing's going to change. In other words, software liability is the key.
Credit card vendors used to send out live cards in the paper mail that you'd have to decline. Crooks stole them out of the mail and used them. Eventually Congress passed a law saying that was illegal. Now credit card companies are liable if they do that. They don't do it anymore. I think Hal Varian has been on about this point since around the year 2000.
Medical malpractice laws can be misused, but would you really want to have no legal recourse if a surgeon or other doctor really screwed up?
Think automobiles and "unsafe at any speed." Maybe if we get over being blinded by all the chrome on Windows and realize its transmission is poorly designed and it has no airbags, maybe we'll get somewhere.
Meanwhile, it can't hurt to try to actually quantify what security is and does, as in Metricon 2.0. That might help sort out some of those "thousands of dedicated security products on the market". If they thus become describable, maybe it will be more obvious which are good and which lousy. For that matter, I really would like to see some one of the many people who claim Linux and OSX have as many exploitable bugs as Windows attempt to quantify that in a Metricon paper.
As Bruce points out, all this wouldn't mean that there wouldn't be any security industry. However, it would certainly have less to do if it wasn't constantly patching around and fixing up an open sewer. Think of all the money and creativity currently going into security fixups that could go into creating new products and services!
Only a bit more than a decade ago there was an aftermarket in TCP/IP addons for Microsoft products, because Microsoft didn't get the Internet until 1995. Once Redmond started shipping an OK networking stack, that aftermarket mostly went away.
Bruce doesn't think such a change could happen in security in his lifetime. Yet it was only eight years ago that he founded Counterpane, now already sold to a big company wanting in-house security. And it was little more than two decades ago that the Microsoft TCP/IP addon market started, and only about a decade ago that it went away. Bruce could easily live long enough to see his prophecy fulfilled.
-jsq