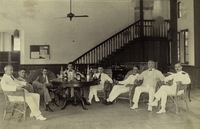 Gartner is shocked! shocked, I tell you! to discover that there is offshoring from the U.S. to India and China.
This is a wake-up call. Unfortunately, it's a wake-up call coming at tea-time. Apparently, Gartner doesn't get the phone calls and emails from offshoring companies I do -- about four cold-calls and a half-dozen emails per week. They also stagger easier than I do. Sixteen percent is very good. It is not staggering.

— Gartner Discovers Offshoring, mordaxus, Emergent Chaos, 25 April 2007
Sounds like Gartner is about as perceptive as the U.S. press in general was about weapons of mass destruction in Iraq.
A college student who turned in their papers after the test was over would probably flunk. It doesn't seem like good risk management for analysts or countries, either.
-jsq