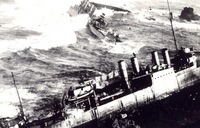 Dell started supplying Linux (without Windows) to its customers a while ago. Now it's started supplying XP instead of Vista. What does that mean?
What happened is the OEMs revolted in the background and forced Microsoft's hand. This is a big neon sign above MeII saying 'FAILURE'. Blink blink blink. OK, MeII won't fail, they have OEMs whipped and threatened into a corner, it will sell, but you can almost hear the defectors marching toward Linux. This is a watershed.

— Microsoft admits Vista failure, By Charlie Demerjian in Beijing, The Inquirer, Saturday 21 April 2007, 12:20
Demerjian says another big sign is that Gates went to China and announced a $3 price for Vista, down from about $300.
Demerjian's interpretation of these two developments?
These two actions by Microsoft are proof of what I suggested three years ago. Microsoft has lost its ability to twist arms, and now it is going to die. It can't compete on level ground, so is left with backpedalling and discounts of almost 100 times.
As Dan Geer has been saying for years, Microsoft has a bit of a problem. Either it stonewalls and pretends there is no security problem, which is what Vista does, by taking over your computer to force patches (and DRM) down its throat. Or you actually change the basic design and produce a secure operating system, which risks people wondering why they're sticking with Windows and Microsoft, then? It turns out the former course may also result in the latter result:
If you fit Microsoft's somewhat convoluted definition of poor, it still wants to lock you in, you might get rich enough to afford the full-priced stuff someday. It is at a dangerous crossroads, if its software bumps up the price of a computer by 100 per cent, people might look to alternatives.

That means no MeII DRM infection lock in, no mass migration to the newer Office obfuscated and patented file formats, and worse yet, people might utter the W word. Yes, you guessed it, 'why'. People might ask why they are sticking with the MS lock in, and at that point, it is in deep trouble.
Monopolies eventually overreach themselves and die. Maybe it's finally Microsoft's time to die. That would decrease the risk to the rest of us.
-jsq