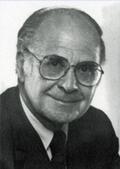 In the previous post I mentioned reputation systems. The flip side of that is reputation management, so that companies can react to reputation systems and proactively manage their own reputations. It turns out that Harold Burson, "the century's most influential PR figure", and Jon Harmon are thinking along similar lines:
The key is in reputation management. When company leaders come to understand that reputation is the company's most valuable asset, they will increasingly value those who can actively and successfully manage reputation.

Reputational momentum defines the art of the possible of nearly every other goal of the business or organization – sales, profits, retention, recruitment or fund-raising. If your reputation is on the rise, achieving your other goals is so much easier. Conversely, a poorly managed crisis leading to a significant drop in reputation can capsize even the company's most valiant efforts to achieve its other goals.

— An Open Letter to Harold Burson: Reputation Management Fulfills PR's Highest Calling, John Harmon, Force for Good, 15 March 2007
Harmon's specific suggestion has to do with a chief-level PR officer, with potential for being on CEO track. On the one hand, every profession seems to want this. On the other hand, after the big reputation botches at
Intel
and
HP
it's hard to argue that corporations could use reputation advice at the highest levels, preferably before they shoot themselves in the foot. So a PR consigliere sounds good to me.
-jsq