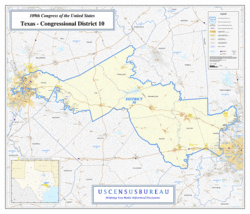 Have you noticed how difficult it is to find accurate maps of U.S. Congressional districts? The ones the New York Times is using in its election coverage are out of date, and the Times is far from alone in this error. A correct map is on the right; more on that below.
Looking on individual state web pages isn't much better. For example, Georgia Secretary of State Cathy Cox, "...advancing the e-government revolution" pitches you over to the Carl Vinson Institute at the University of Georgia, which offers maps labelled
Georgia Congressional Districts,
Effective for the 2006 Elections,
but which are in fact inaccurate, not to mention insufficiently detailed to tell what's in or out of a district along its boundaries.
The House of Representatives offers a web page that will tell you your representative if you feed it your nine digit ZIP code, but not maps, as near as I can tell.
The only reliable source I've found is the U.S. Census Bureau. And it didn't get its map data from Congress:
For the States that have more than one representative, the Census Bureau sent a letter to each Secretary of State requesting a copy of the State laws and/or applicable court order(s) for each State. Additionally, the States were asked to furnish their newly established congressional district boundaries and numbers by means of geographic equivalency files. All states submitted equivalency files because most of the redistricting was based on whole census blocks (with the exception of Indiana, Kentucky, Pennsylvania, and Wisconsin, whose boundaries do go through some census blocks. For further information on these blocks, please see the usernote at the bottom of the tables for these States).

The Census Bureau entered this information into its geographic database and then produced block equivalency files that depicted the newly defined congressional district boundaries and numbers. Each Secretary of State was furnished with a file and requested to submit corrections and certify the boundaries.

How we Acquired the Congressional District Boundaries, Geography Division, U.S. Census Bureau, Last Revised: August 24, 2005 at 04:35:45 PM
I have to wonder why Cathy Cox, for example, whose office evidently provided this data to the Census Bureau and checked the resulting maps for accuracy, couldn't be bothered to link from her web pages to those maps.
Maybe Congress could get around to posting maps of what it's own members represent. Hm, but that might make the pervasive gerrymandering of districts, aided and abetted by the House, more obvious. For example, the map shown above is of Texas District 10, in which I voted Friday. That's Austin on the left, and Houston on the lower right, about 150 miles away. Makes a lot of sense, right?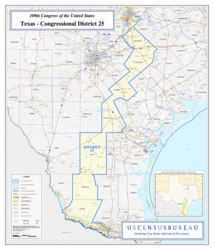 Meanwhile, the maps the NY Times is using shows District 25, which used to include me, still as kind of a lump on the east side of Austin. In fact, it now extends from SE Austin to McAllen, on the Mexican border, about 300 miles due south, as shown in the map to the right.
Making this stuff more visible could be a risk to the gerrymanderers. But it seems to me that taking the confusopoly out of U.S. House districts would be risk management for the general population, not to mention for the rest of the world, which lately has some concern about U.S. foreign policy and the elected officials who decide and implement it.
-jsq