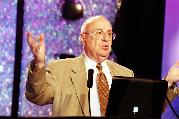 I admire Dave Farber; he's done a lot for computing and the Internet. But sometimes I can't agree with him:
Antitrust law generally takes a case-by-case approach under which private parties or public agencies can challenge business practices and the courts require proof of harm to competition before declaring a practice illegal. This is a sound approach that has served our economy well.

— Hold Off On Net Neutrality, By David Farber and Michael Katz, Interesting People, Friday, January 19, 2007; A19,
In an op-ed he's recently reposted on his Interesting People list, he's recommending antitrust instead of legislation to deal with net neutrality. So far as I know, Farber is no lawyer. In this case, I tend to go more by lawyers who have actually studied the problem, for example Prof. Barbara Cherry, who used to work for the FCC and has examined the history of common, statutory and administrative law in the U.S., as well as the way Internet provision has been wrenched out of one legal regime into another by the FCC, and how the FCC has also stripped broadband of its common carriage status.
Those who say that we shouldn't regulate because we don't know what will happen and anti-trust will catch problems if they occur are not taking into account that anti-trust doesn't automatically apply to or address problems in the new legal regime into which broadband has been thrust.
-jsq