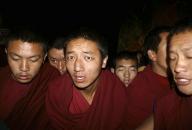 This is what you have to do to get media attention if you don't have a free press:
A group of uninvited young monks at the Jokhang Temple, one of the most sacred in Tibet and a top tourist stop in central Lhasa, stormed into a briefing by a temple administrator.

"About 30 young monks burst into the official briefing, shouting: 'Don't believe them. They are tricking you. They are telling lies'," USA Today Beijing-based reporter Callum MacLeod said by telephone from Lhasa.

— Monks burst in on Tibet news briefing, By John Ruwitch, Reuters, Thu Mar 27, 2008 2:59pm GMT
This may be an extreme, but it is
what controled media lead to.
-jsq