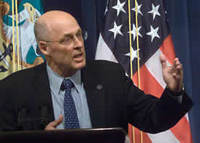 What a reputation:
So that's that. Register your domain name through a U.S. company and your business goes kaput if the U.S. Treasury Department decides it doesn't like you. It doesn't matter if you're based in Spain, your servers are in the Bahamas, your customers are mostly European, and you've broken no laws. No warning. Just kaput.

— Just Kaput, Kevin Drum, Political Animal, 4 March 2008
This blogger bases his opinion on a NYTimes story:
Steve Marshall is an English travel agent. He lives in Spain, and he sells trips to Europeans who want to go to sunny places, including Cuba. In October, about 80 of his Web sites stopped working, thanks to the United States government.

The sites, in English, French and Spanish, had been online since 1998. Some, like www.cuba-hemingway.com, were literary. Others, like www.cuba-havanacity.com, discussed Cuban history and culture. Still others — www.ciaocuba.com and www.bonjourcuba.com — were purely commercial sites aimed at Italian and French tourists.

"I came to work in the morning, and we had no reservations at all," Mr. Marshall said on the phone from the Canary Islands. "We thought it was a technical problem."

It turned out, though, that Mr. Marshall's Web sites had been put on a Treasury Department blacklist and, as a consequence, his American domain name registrar, eNom Inc., had disabled them. Mr. Marshall said eNom told him it did so after a call from the Treasury Department; the company, based in Bellevue, Wash., says it learned that the sites were on the blacklist through a blog.

— A Wave of the Watch List, and Speech Disappears, By ADAM LIPTAK, New York Times, Published: March 4, 2008
Meanwhile, this is not just press hype; there is technical confirmation that ENOM has
"actually suspended (unglued) the domains in question (i.e., the owner cannot even move the authoritative DNS for the zones to a more willing provider"
.
This is a kind of behavior we used to expect of the Soviet Union.
Treasury Secretary Henry M. Paulson Jr. is in Oakland, California today "to discuss a range of issues critical to the global and U.S. economies and financial markets." Somebody ought to ask him about this.
-jsq