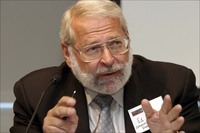 Ed Black by Declan McCullagh
It's time somebody treated the fear-mongering about retroactive immunity as it d eserves:
CCIA dismisses with contempt the manufactured hysteria that industry will not aid the United States Government when the law is clear. As a representative of industry, I find that suggestion insulting. To imply that our industry would refuse assistance under established law is an affront to the civic integrity of businesses that have consistently cooperated unquestioningly with legal requests for information.

— To the Members of the U.S. House of Representatives, Edward J. Black, President & CEO, Computer & Communications Industry Association, 29 February 2008
CCIA
represents many of the corporations that are called upon by FISA.
-jsq