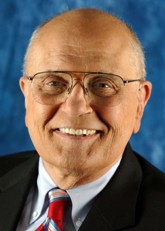 Preventive Congressional oversight had no effect on the FCC.
We'll see if forensic oversight does any better:
Bipartisan leaders of the House Energy and Commerce Committee launched an investigation of the Federal Communications Commission on Tuesday, three weeks after the agency's controversial vote to ease media ownership restrictions.

In a letter sent to FCC Chairman Kevin Martin, the committee asked that all electronic records and personal e-mails related to FCC work be saved.

The committee has "initiated a formal investigation into FCC regulatory procedures to determine if they are being conducted in a fair, open, efficient, and transparent manner," said the letter written by Chairman John Dingell, a Michigan Democrat, and ranking Republican Joe Barton of Texas.

"This investigation will also address a growing number of allegations received by the committee relating to management practices that may adversely affect the agency's operation," the letter said.

— House panel launches probe of FCC practices, Reuters, Tue Jan 8, 2008 4:15pm EST
Maybe Congress will slap the FCC with another stern letter. I'm sure Kevin Martin is quaking in his boots.
-jsq