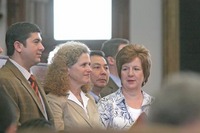 AT&T tried to impress Texas legislators by streaming the football game in high definition:
"I'd never seen a football game on a big screen like that. It didn't look very good."

—Rep. Eddie Rodriguez, D-Austin, quoted in UNDER THE DOME Most Austin reps skipped football game - and lobby party, W. Gardner Selby, Austin American-Statesman, Saturday, December 01, 2007
I'm not sure AT&T wanted that kind of reaction to watching a Texas football team in Austin, the capital of the second most populous state. The local cableco in Austin, Time Warner, didn't have the game (Dallas Cowboys and Green Bay Packers), which was on the NFL Network, which has a deal with AT&T. Most legislators didn't even show up to watch. Interesting, considering that legislators and regulators are the real audience of the duopoly.
-jsq