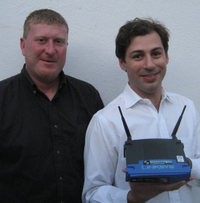 This works for local electric companies; why not for ISPs:
Some ISPs simply discourage end users from offering WiFi connections to neighbors; most explicitly rule it out in their terms of service. But a small Canadian ISP called Wireless Nomad actually requires it.

Nomad does things a little differently. The company is subscriber-owned, volunteer-run, and open-source friendly. It offers a neutral Internet connection with no bandwidth caps or throttling, and it makes a point of creating wireless access points at the end of each DSL connection that can be used, for free, by the public. Bell Canada this is not.

— Sticking it to l'homme: Canadian co-op forms own ISP, By Nate Anderson, ars technica, October 10, 2007 - 11:58PM CT
Sort of a local
FON
.
-jsq