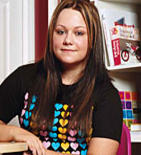 Photograph by
Martynka Wawrzyniak
Ashley Qualls, aged 17, builds a myspace site,
Whateverlife
, earns $70,000/month, quits school, buys house, refuses $1.5 million buy out.
Her MySpace page layouts are available for the bargain price of…nothing. They're free for the taking. Her only significant source of revenue so far is advertising.

— Girl Power, by Chuck Salter, Fast Company, Issue 118, September 2007, Page 104
Ads by
ValueClick Media
, not
DoubleClick
.
Now imagine her doing this on a properly commoditized and monetized broadcast content duopoly-controled Internet. She wouldn't be able to get approval, and if she did, she wouldn't be able to afford the broadcast fees.
Internet freedom? Whatever!
-jsq
PS: Seen on SocialDailyNews.com.