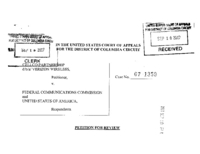 Well, even though
the FCC only provided half-measures to open up the 700Mhz market,
Verizon thinks that's too much and is suing the FCC because it partly unlocked cellphones:
Verizon Wireless seeks judicial review on the grounds that the Report and Order exceeds the Commission's authority under the Communications Act of 1934, as amended, 47 U.S.C. §§ 151, eg. seq., violates the United States Constitution, violates the Administrative Procedure Act, 5 U.S.C. § 701 et. seq., and is arbitrary capricious, unsupported by substantial evidence and otherwise contrary to law.

— Verizon Wireless v. FCC, Case No. 07-1359, U.S. Court of Appeals, D.C. Circuit, 10 Sep 2007
Curious how the burden of proof always seems to be on anybody but the telcos and cablecos. I mean, didn't the FCC get the memo that it was only supposed to do anything if somebody proved
market failure
?
-jsq
PS: Seen on SavetheInternet.com