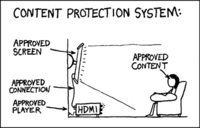 Here's another view of what the telcos and cablecos have in mind for us, or, rather, what they want in our minds:
approved content
. This is substantially different from the Internet freedom we have today to look at whatever we want to and to publish our own content.
Remember:
AT&T Inc. has joined Hollywood studios and recording companies in trying to keep pirated films, music and other content off its network — the first major carrier of Internet traffic to do so.
Get ready for
the Amazon Channel
or settle for
Internet Base Service
.