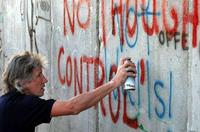 Photo: AP Photo/Magnus Johansson-MaanIm
Political censorship?
After concluding our Sunday night show at Lollapalooza, fans informed us that portions of that performance were missing and may have been censored by AT&T during the "Blue Room" Live Lollapalooza Webcast.

When asked about the missing performance, AT&T informed Lollapalooza that portions of the show were in fact missing from the webcast, and that their content monitor had made a mistake in cutting them.

— LOLLAPALOOZA WEBCAST: SPONSORED/CENSORED BY AT&T? News, PearlJam.com, 7 August 2007
So, "a mistake".
Uhuh.
But it gets better.
Listen to HandsOff trying to explain it away:
There's no question that the vendor AT&T hired during the recent Lollapalooza concert thoroughly screwed up. Artistic expression is a staple of Internet content and shouldn't be silenced. Period.

But let's be clear: This incident has absolutely nothing to do with net neutrality. Nothing. Zero. Zilch. From a technological standpoint, the mistake here involves a website owner making a stupid edit to the content on its site. This is a legal right guaranteed by Section 230 of the federal Communications Decency Act.

By contrast, net neutrality involves blocking or degrading the web sites of others, not infringing on the rights of a web site operator to decide what to carry on his or her own site.

— Pearl Jammed, Hands Off the Internet, August 9, 2007
So if, without net neutrality, the duopoly, including, for example, AT&T, gets to block or degrade the web sites of others, thus directing customers to its own web sites, and then AT&T gets to edit content on its web sites to its heart's content, that's not going to silence artistic expression? We're supposed to believe this is unrelated to net neutrality?
Even though the same FCC that can't be bothered to enforce net neutrality has time to try to regulate Cher's mouth?
And it's funny how last year net neutrality opponents claimed it was hard to define net neutrality, but this year they seem to have no difficulty with that, especially when they want to use a definition to exclude a consequence.
Even though they define it backwards. Contrary to what Handsoff wrote, net neutrality is about not blocking or degrading the web sites of others. Blocking or degrading is what the duopoly will end up doing if there is no net neutrality. But of course saying it backwards is a handy way to muddy the issue.
What got lost from that AT&T webcast, anyway? Pearl Jam says:
During the performance of "Daughter" the following lyrics were sung to the tune of Pink Floyd's "Another Brick in the Wall" but were cut from the webcast:

- "George Bush, leave this world alone." (the second time it was sung); and

- "George Bush find yourself another home."
Meanwhile,
HandsOff celebrates the FTC's refusal to regulate because of lack of "market failure",
, a doctrine
now enforced by decree of George W. Bush
.
The ability to block or degrade the web sites of others is the ability to silence artistic or political speech. Net neutrality is needed for Internet freedom, especially for freedom of speech.
We don't need no thought control.

—Pink Floyd
-jsq