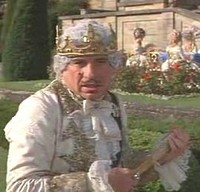 How are those
merger conditions
coming along?
Remember the story back in June about how AT&T had extremely quietly started offering $10 DSL as was required in its deal to buy BellSouth? The company was promoting many other, more expensive, DSL options, but the only way you could get the required $10 version was if you specifically knew to ask about it. Broadband Reports points to an interview from an Atlanta newspaper with AT&T CEO Randall Stephenson where he's asked about the $10 DSL. The interviewer points out that no story about AT&T resulted in a more irate response from AT&T customers as its story about the hidden offer for $10 DSL, suggesting that this was a huge issue for AT&T customers. Stephenson's response? First he denies that the company made it hard to find, and then he says that they're not promoting it because customers don't want it. This, despite the clear response from customers to the very newspaper who was conducting the interview. Then, he basically admits that the $10 DSL doesn't work very well, saying that they don't promote it because they don't want to give customers a product that sucks. Of course, he says that as if it's not his company that has quite a bit of control over whether or not the product sucks.

— AT&T CEO: We Don't Promote $10 DSL Because No One Wants It, Techdirt, 1 August 2007
This is even though the AJC reporter introduced the question with:
Of all the things the AJC has written about AT&T lately, none has caused more reader irritation than AT&T's $10 a month DSL offer, which was required by the Federal Communications Commission when you bought BellSouth.

— Q&A: AT&T CEO Randall Stephenson, By Scott Leith, The Atlanta Journal-Constitution, Published on: 07/27/07
The techdirt writer goes on to point out that this is what SBC used to do with naked broadband, too, i.e., dance around and do nothing. After all, without regulation or competition, it's good to be king!
-jsq