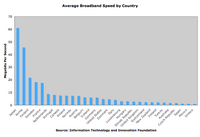 Letting a picture tell the story of how
Japan, Korea, France, Poland, Portugal, and other countries have faster broadband than the U.S.,
here's a graphical illustration of average broadband speeds per country. Finland, Sweden, Norway, and Iceland I would expect, since they've long been fast. But Poland?
There seem to be two tiers. Japan and Korea are the top tier. Then Finland, Sweden, and France. Then a third tier starting with the Netherlands. The U.S. is either in that third tier or in a fourth tier, depending on how you look at it.
The source report, Assessing Broadband in America: OECD and ITIF Broadband Rankings, By Daniel K. Correa, Information Technology and Innovation Foundation, April 2007, also examines broadband uptake, in which the U.S. is also fifteenth in these OECD rankings.
Maybe it's time for a change. A change in public policy and the addition of competition.
-jsq