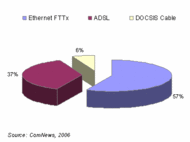 Broadband growth is slowing in the U.S.:
Price reductions and other factors led to 40 percent growth in adoption from March 2005 to March 2006. Over the following year, growth was a more modest 12 percent, the Pew Internet and American Life Project said in a report Tuesday.

"The low-hanging fruit was picked ... so you saw a slowdown understandably going to 2007," said John Horrigan, Pew's associate director for research.

— Study: Broadband Growth Slowing in U.S. By Anick Jesdanun, AP Internet Writer, 3 July 2007
Meanwhile, back in
the USSR
Russia:
The broadband market in Russia, particularly in Moscow, is growing quickly. The Ministry of IT and Communications reports that the fixed broadband market grew 42% and wireless broadband market showed a 61% annual growth rate in 2006.

— FTTx and DSL in tussle for Moscow market share, PointTopic, 3 July 2007
And in Russia it's mostly fiber to the home, enabling even faster future speeds.
-jsq