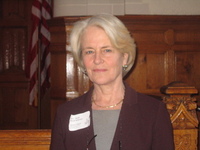 In case it wasn't obvious why the
telcos want local TV franchise laws repealed:
A federal judge has thrown up a roadblock in front of AT&T as it attempts to roll out its new U-Verse IPTV service in the state of Connecticut. In an opinion issued yesterday, Judge Janet Bond Arterton ruled that AT&T's U-Verse IPTV service is a cable television service like any other and is therefore subject to local franchising agreements.

— Federal judge: AT&T U-Verse == cable TV, By Eric Bangeman, ars technica, Published: July 27, 2007 - 10:44AM CT
But isn't it different from cable if it's carried over IP?
That's what the CT PUC said:
The lawsuit was filed by the state's Office of Consumer Counsel, which acts as an advocate for Connecticut consumers; the New England Cable and Telecommunications Association, a trade group made up of cable companies operating in the northeast; and Cablevision. At issue was a simple question: does AT&T's U-Verse service fall under the definition of a "cable service" as outlined in the Cable Communications Policy Act of 1984? The Connecticut Department of Public Utility Control had said "no," ruling that AT&T's switched, two-way client server IP-based architecture was fundamentally different from cable TV, and gave AT&T a green light to begin rolling out U-Verse throughout the state without entering into agreements with local governments.
So the claim seems to have been that if you build a service over a technical networking architecture that
could
supply something different than cable TV, then it
is
different.
The plaintiffs and judge differed:
In their complaint, the plaintiffs pointed out that U-Verse would be "nearly identical" in every way to any other cable TV service from the perspective of cable subscribers, ranging from programming available to on-demand services. AT&T argued that since it had yet to begin offering TV service, any comparisons between U-Verse and other cable offerings were just speculation.
And of course AT&T fell back on shifting the burden of proof to anybody else, even though the plaintiffs were describing what AT&T said it was going to ship.
So remember, when you hear "reform" used in catchphrases by telcos and other duopolies or monopolies, as in "franchise reform", it means "reforming" any restrictions on those duopolies or monopolies. You might think it meant reform to help the consumer or even the participant, but you'd be mistaken.
Also remember these are the same companies that want you to trust them with your Internet their network. And they already "reformed" net neutrality back in August 2005.
-jsq