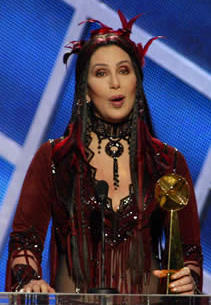 I don't usually post in the middle of the night, but this one is too amusing, or appalling, or something:
Today, the Second Circuit Court of Appeals in New York said the use of the words "fuck" and "shit" by Cher and Nicole Richie was not indecent.

I completely disagree with the Court's ruling and am disappointed for American families. I find it hard to believe that the New York court would tell American families that "shit" and "fuck" are fine to say on broadcast television during the hours when children are most likely to be in the audience.

The court even says the Commission is "divorced from reality." It is the New York court, not the Commission, that is divorced from reality in concluding that the word "fuck" does not invoke a sexual connotation.

— STATEMENT OF FCC CHAIRMAN KEVIN MARTIN ON 2ND CIRCUIT COURT OF APPEALS INDECENCY DECISION, FCC, 4 June 2007
When I first read this, I thought it was in
the Onion
, or that Jonathan Rintels, on whose blog I found it linked, was having a little joke.
Yet it's hosted on the FCC's own web pages. And as Rintels points out, the court didn't say "fine to say":
Instead, what the Court decided was that Martin's FCC had failed to rationally justify its substantial expansion of the definition of what constituted "indecency," and that its decisions were so "arbitrary and capricious," and such an abuse of discretion, that they were unlawful.

— FCC Chair Goes Ape-Sh** After Appeals Court Tosses Out His "Indecency" Decisions, Jonathan Rintels, Center for Creative Voices in Media Blog, 4 June 2007
Here's
the court's decision
; read it for yourself.
Maybe it's just me, but I think the FCC would be more useful developing and enforcing net neutrality rules than in acting as government censor of the airwaves. Especially when a court has ruled that the FCC has no legal authority to censor in the way it's been doing. On the other hand, I wouldn't really like to see "arbitrary and capricious" net neutrality rules, so maybe it's best if Congress deals with that, preferably with new first-mile ISP competition, as well.
-jsq