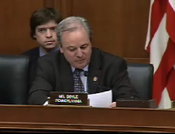 A Congressman gets it about how mash-ups (music that samples bits of other artists' work) are not new, and maybe even beneficial:
'I hope that everyone involved will take a step back and ask themselves if mash-ups and mixtapes are really different or if it's the same as Paul McCartney admitting that he nicked the Chuck Berry bass-riff and used it on the Beatle's hit "I Saw Her Standing There."'

— Perhaps the Coolest Moment in the History of Congress and Why it Matters, by Sean Garrett, The 463: Inside Tech Policy, Technology policy trends, insight and news March 11, 2007
Who said that? Congressman Mike Doyle (D-Pittsburgh, PA), in a hearing on the "Future of Radio" of the House Telecom and Internet sub-committee, which was mainly about the recent
Copyright Royalty Board
decision to raise prices for music over the web. If there really is such value in mash-ups, perhaps that value needs to be somehow balanced with copyright.
-jsq