I quoted Jill Richardson back in March about
about Professor Col. Don Huber's letter to USDA Secretary Vilsack
about new evidence found of diseases caused by Roundup. She writes 27 April 2011,
Why Is Damning New Evidence About Monsanto's Most Widely Used Herbicide Being Silenced? It turns out that Monsanto's Roundup herbicide might not be nearly as safe as people have thought, but the media is staying mum on the revelation.
Huber was unavailable to respond to media inquiries in the weeks following the leak, and thus unable to defend himself when several colleagues from Purdue publicly claiming to refute his accusations about Monsanto's widely used herbicide Roundup (glyphosate) and Roundup Ready crops. When his letter was finally acknowledged by the mainstream media, it was with titles like "Scientists Question Claims in Biotech Letter," noting that the letter's popularity on the internet "has raised concern among scientists that the public will believe his unsupported claim is true."

Now, Huber has finally spoken out, both in a second letter, sent to "a wide number of individuals worldwide" to explain and back up his claims from his first letter, and in interviews. While his first letter described research that was not yet complete or published, his second letter cited much more evidence about glyphosate and genetically engineered crops based on studies that have already been published in peer-reviewed journals.
And that's plus all sorts of evidence about other ill effects of glysophate, including
lower IQ in children,
and Roundup-Ready crops themselves causing
organ disruptions.
All that plus the very real risk of
the genetically modified crops having unpredicted effects.
There's
much more.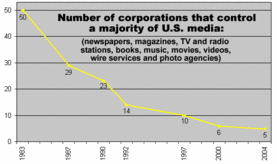 Could this silence of the press be because only five companies own more than half of all the media in the U.S.? Let's not forget the legal system is also complicit, given the Fox-can-lie case.
So what can you do? vote at the checkout counter. Buy local and organic. And of course bug your elected officials about doing something about it.
-jsq