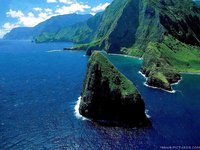 Monsanto
grows much of its seed corn on the Hawaiian island of Molokai
, apparently including its new "water-efficient maize":
In law, two-thirds of the water from the Molokai irrigation system should go to homestead farmers. In practice big landowners, especially Monsanto, take 84% of the irrigation system's water consumption. Monsanto alone, according to Yamashita, takes almost twice as much water as all 200 homesteaders.

So I think I have this right. In the cause of developing crops that will allow the world's farmers to use less water, Monsanto is so overusing the water in its own backyard that local farmers are have resorted to legal action to get their water back. As the Molokai Dispatch's headline has it: "Monsanto could be its own worst enemy."
We would expect nothing less from the company that brought us Agent Orange.