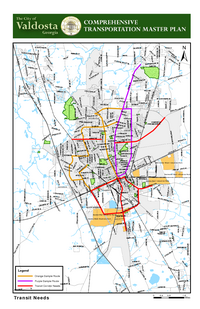 A couple of weeks ago (Wednesday, Jan 7th, 2009), I went to a public meeting on a
Transit Implementation Plan for the Valdosta Urbanized Area
. Basically, where should the proposed Valdosta bus system run? This is part of the
Valdosta Transportation Master Plan.
It was quite interesting that there was such a meeting, at which the various organizers (SGRDC, MPO, and the consultant) actively solicited input from the attendees, in both ad hoc and organized ways. First they gave a presentation and answered questions. Then they asked participants to fill out a questionnaire about where they lived, worked, and played. The presentation for that meeting is online. They even scheduled several more Public Involvement Meetings. Hm, I'm not seeing that schedule online, but presumably they'll put it up before the meetings happen.
There was pretty good attendance: several plain citizens, the mayor, a couple of city council members, a couple of county commissioners, at least one planning commission member, a member of the Zoning Board of Appeals, a newspaper reporter, etc.
If you want a bus to run near you, I'd recommend going to one of these meetings, or contacting the organizer, Corey Hull, MPO Coordinator, 229-333-5277.
Lowndes County has a Thoroughfare Plan, which is currently being revised. We'll see what the public input process for that turns out to be.