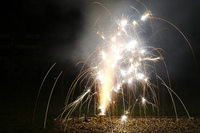 Bruce Schneier reviews
a paper that explains why terrorism doesn't work. Examining 28 foreign terrorist organizations (so designated by the U.S. State Department), the author notes:
First, the groups accomplished their forty-two policy objectives only 7 percent of the time. Second, although the groups achieved certain types of policy objectives more than others, the key variable for terrorist success was a tactical one: target selection. Groups whose attacks on civilian targets outnumbered attacks on military targets systematically failed to achieve their policy objectives, regardless of their nature.

— Why Terrorism Does Not Work, by Max Abrahms, MIT Press Journals, 2006
Why?
Because civilians, when attacked, conclude that the goal of the terrorists is terror, and oddly civilians don't like being killed and maimed. In other words, attacking civilian targets distracts from the real goals of the terrorists, which tend to be more about expelling foreign occupiers.
A really clever terrorist can play this to his advantage, because if the targets conclude that the terrorists are out to kill everybody, the reaction can be wildly disproportionate and poorly aimed. Which produces blowback against the counter-attacking government. Most terrorists aren't that clever, and most governments aren't that stupid. Well, I'm pretty sure about the first part of that, at least.
So what should people and governments do in the face of terrorism?
If target countries systematically resist rewarding terrorism, the international community is armed with a powerful message to deter groups from terrorizing civilians.
Don't launch poorly aimed invasions. Don't arrest and torture people.
Don't give up liberties in exchange for illusory security.
Work on fixing the bad things about your society, strengthen the good things, and don't give in.
Or, to put it another way, laugh in the face of terrorism.
Happy Fourth of July.
-jsq